DOWNLOAD an 8 by 11 press highlights page
.................................................................................
Laura Catena from Bodega Catena Zapata – Episode #929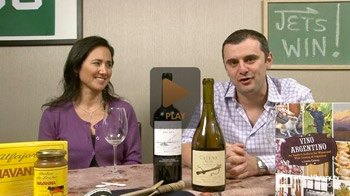 Vino Argentino Presentation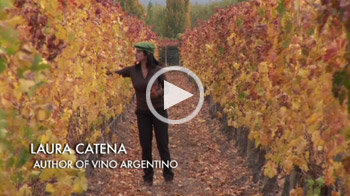 by Laura Catena, 2010
Laura Catena featured on the Leonard Lopate Show
The Leonard Lopate Show, NPR, March, 2011

Laura Catena Uncorks Argentina
New York Times Magazine, November, 2010


Book Review: Vino Argentino
WinesWorlds, Feb, 2011
Country Guides Cookbooks: Vino Argentino
StarChefs.com, Feb, 2011
Gift Guide: The Best Books for the Holidays
Uncork Life, December, 2010
Best New Reads for Wine Lovers



December, 2010

Three wine books to read now from Theise, Kramer and Catena
The Washington Post, November, 2010
Holiday Shopping List Of Wines
Daily Herald, November, 2010
Vino Argentino Review



October, 2010

New Books on Wine


Argentine Wine: Malbec and More
Smithsonian, September 23, 2010


Wine Enthusiast, October 2010
A positive summary of Laura Catena's new book, Vino Argentino.

Wine Economist, September 2010
Author Mike Veseth reviews Laura Catena's new book, Vino Argentino, describing it as, "the perfect reference for anyone interested in Argentinean wine or planning a visit to the vineyards there."
"This is a unique wine book, written with great intelligence, insight and, above all, love. Laura Catena knows wine from a vantage point within one of the most important wine families in the world. Her book is a song of joyous praise for her family, for the wonders of Argentina and for the enchantment of wine."
ANTHONY DIAS BLUE
Editor-in-Chief The Tasting Panel Magazine
"The book does a superb job of describing the regions and the wines, but more importantly, it puts a human face on Argentina's wine country with profiles of influential wine personalities and recommendations for restaurants and other amenities. Argentina has a wonderful cuisine, perfect for the wines. Argentina's free-range beef is the best in the world, and there are many other regional specialties that Laura describes in both words and recipes."
Dr. Jay Miller, wine critic, Robert Parker's Wine Advocate
"Nobody knows more about the Argentinian wine business than Laura Catena (except maybe her father Nicolas). Laura's new book will certainly be the Bible on this subject. It is very welcome as few areas in the wine world have developed so rapidly and successfully, from easily accessible wines to "grands vins".
Baron Eric de Rothschild, Chateau Lafite Rothschild and Caro
"Few people are as qualified as Laura Catena to write a book like Vino Argentino, the definitive guide to Argentina's wine country. To know Laura is to know this beautiful, passionate land, and the family that pioneered Argentina's entrance into the world of fine wine."
Michael Yurch, President, Sherry-Lehmann, Inc. New York, New York


Fern Berman Communications
www.fernberman.com
fern@fernberman.com
212-741-2226


More than Malbec: Laura Catena, David MacIntyre, Alberto Arizu and Nora Favelukes at the Smithsonian


Laura Catena from Bodega Catena Zapata – Episode #929
Wine Library TV
Malbec Life's channel on youTube
Malbec Life's channel on Vimeo


Its a family affair. Laura Catena carries on vintner's legacy.
The Costco Connection, August, 2011
Laura Catena featured in O Magazine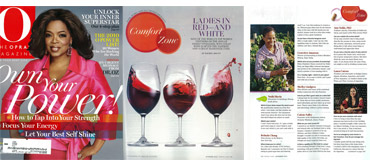 "Ladies in Red and White"
Cover, Page 1, Page 2,
O Magazine, October 2010
Laura Catena talks about the wines and culture of Argentina.
WNYC - The Leonard Lopate Show, April, 2011
A Winery and A Family Grow.
Poder Hispanic , March, 2011
Insider Argentina: Where To Sip Wine in Mendoza, Salta and More.
Frommers.com,Feb 7, 2011
Industry Insiders: Laura Catena, Vino MD
Black Book Magazine, November 16, 2010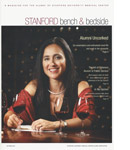 Laura Catena featured on the cover of Stanford bench & beside
Bench & Beside, Autumn 2010
Washington Post
Dave McIntyre contemplates what makes Argentina unique in advance of a presentation on Argentina wines that he'll be giving with Laura Catena at the Smithsonian's National Museum of American History.
Laura Catena featured in Town & Country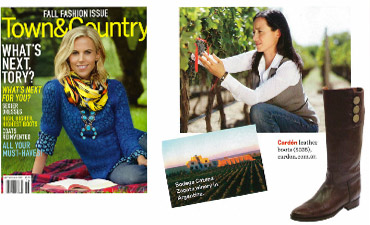 "How Four Fabulous Women Rusticate"
Town & Country, September 2010
Argentina's Growing Wine Regions
"Nicolas Catena spoke with pride about his daughter, Laura, who'd attended Harvard and Stanford and become an emergency-room doctor in San Francisco, with an American husband and a growing family. "I never, ever thought I would work with my father," she now says. As the Catena winery expanded, she made brief trips back home to offer advice. Somewhere along the way, she became indispensable. These days, she spends a third of each year in Mendoza, helping Catena Zapata stake its claim as Argentina's premier winery. Because she appears in magazine ads, and because she's fiercely intelligent and uncompromisingly honest, Laura Catena has become the face of Argentinean wine. She also has an adventurous streak that balances the methodical thinking that drew her to medicine"
From Travel and Leisure, September 2009, by Bruce Schoenfeld .
Interview of Doctor Laura Catena by Catherine Fallis MS
"This San Francisco physician is one of the leading fig-
ures on the Argentine wine scene..."
Sommelier Journal, May 2010
"Though Laura Catena might wear scrubs in San Francisco, back in her homeland, at the tip of South America, she's one of the most important wine-makers in Argentina's burgeoning fine-wine industry…Under the Luca label, Laura makes several different varietal wines, all with impeccable balance, excellent concentration and extraordinary grace. They may be the finest wines coming out of Argentina today."
Jordan Mackay, 7 X 7 San Francisco Magazine.
"The arrival of Argentinian wines on the world stage was initiated by Catena's vision and the way he changed the quality of wines for export, helped by his daughter. I have a deep admiration of him as visionary—a Mondavi in his own way."
Alfred Bonnie, DiamAndes Argentina and Château Malartic-Lagravière